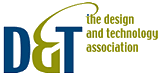 Mill Hill County High School
School:
Mill Hill County High School
Address:

Worcester Crescent,
Mill Hill,
London
NW7 4LL

Tel:
020 8959 0017
Fax:
020 8959 6514
Email:
admin@mhchs.org.uk
Website:
www.mhchs.org.uk
Snapshot of the Project: Mill Hill County High School, situated in North London, is a foundation, co-educational comprehensive secondary school with the age range of eleven to eighteen. There are approximately 1,470 students on roll with over 350 in the sixth form.
The present building was opened in 1957 and occupies a twenty-one acre site on the edge of the green belt. A major refurbishment of the Technology Centre took place in 1993 with further extensive building works taking place in the department during 1999.
In 1994 Mill Hill County High School became one of the first schools in the Country to be awarded Technology College Status. The School was successful in a bid in spring 2000 for renewal of Technology status for a further three years. In line with its commitments as a Technology College, the School has been permitted by the DfEE to allocate 10% of year 7 places on the basis of potential of technological aptitude.
The School is affiliated to the Technology Colleges Trust and is lead School of the North London Consortium of schools involved in the School Centred Initial Teacher Training (SCITT) scheme for the initial training of teachers of Science, Technology, ICT and Languages. Student places at the School are highly sought after. The learning ethos is very high and examination results are very good with 77% of the student cohort in 2001 gaining 5 or more GCSE's with grades A* to C.
Range of D&T GCSE's offered: Textiles, Food Technology, Electronic products, Resistant Materials, Graphics.
Number of teachers teaching D&T: Nine.
How is ICT for D&T Resourced? ICT within D&T is resourced and funded from a number of sources. Partly from within the departmental budget, partly from the cross-curricular IT budget and partly by making bids/proposals directly to the headteacher.
How much ICT training have members of the D&T dept had? Quite a lot but most has been delivered as "in-house" courses, delivered by colleagues having interest and expertise in specific software applications.
Brief history of ICT development: When the present Head of Department arrived there were lots of Acorn Machines throughout the school. These were fabulous for D&T but with the change of status to a Technology College in 1995. The school ICT policy changed to a single platform and a PC platform base was established.
Date of Case Study: July 2001
The Case Study: This case study looks at the work undertaken in the D&T department through two different perspectives. The first focus looks at a series of photographs of year 11 students engaged in forty-hour course work projects either based on electronic or graphic projects while the second focus examines the outcomes of a year 12 group of students engaged in a special activity brief generated by TEP.
The department is light and airy with displays regularly updated. GCSE marking criteria are displayed in all subject areas. All subject areas are located in one building with inter-linked workshops promoting cross-over between the subject areas. Flexibility within room allocation also supports this.
Electronic Products:-
Graphic Products:-
TEP involvement:-
In this section of the case study we look at the outcomes of a short-term project generated by TEP.
The situation
DIY and high street hardware shops now sell a broad range of electrical test equipment. As an importer and manufacturer of high quality smart materials. TEP recognise the potential applications of smart materials in a hand held instrument for testing batteries and continuity in circuits.
A potential owner/occupier market of 20 million units exists. A number of key manufacturers already exist in the market place. No products exploit the potential of smart materials but use existing electronic technologies with LED's and miniature moving coil meters.
The Student Brief
You are asked as individuals or as collective student designers to explore the domestic battery tester/circuit tester market and produce a portfolio containing:
The feasibility of introducing a new product to this market
Reviewing and analysing the existing product ranges on the market.
Research battery sizes, types, technical criteria and manufacturing constraints.
Ensure you take account of social, ergonomic, safety, environmental factors.
Investigate the range of smart materials applicable to the brief.
Show a range of annotated initial ideas in pictorial, section and rendered GA views.
Produce an interim analysis and outline specification and costing for your proposals.
Complete a working prototype with enclosures that exploits one or more smart materials.
Nick Baldwin, from TEP, came to Mill Hill and made an initial presentation listed under three categories which were:
Modern Materials
Smart Materials
Smart Products
Under modern materials Polymorph and Lenticular sheet werediscussed Smart Materials Shape Memory Alloy (SMA) and Thermochromatic film were introduced to the students and under Smart Products the IQ controller was introduced and students undertook a series of activities with the controller.
At the initial stage students were Given about two hours working with the TEP materials. Through exams and other internal pressures the students didn't touch the material for a long while. They then completed the project in about 3 days which I think was about 4 hours in total!
Philip - battery tester small light credit card size and early stage conceptual model.
Suzanne, Gary, Pam Battery is held in Polymorph contacts at each end, smart wire heats, paper then lights the word "life".
Rakhee & Esha the polymorph and IQ solution, wanted to work with materials and technologies that they had not used before. They thought that this was a good material to model with and had time to spare at the end of the project.
Louise Suzanne, Imogene working with Thermochromic film. Target in the centre.
Alexis James and Jonathon use thermochromatic film and smart wire, the more charge in the battery the brighter the display.
Lighting Project using Modern Materials.
ICT Policy and Planning for the future: ICT policy panning in the department is a collaborative feature involving all members of the department. An ICT curriculum map has been developed (example below) and regular meetings of the department ensure that this map is kept up-to-date.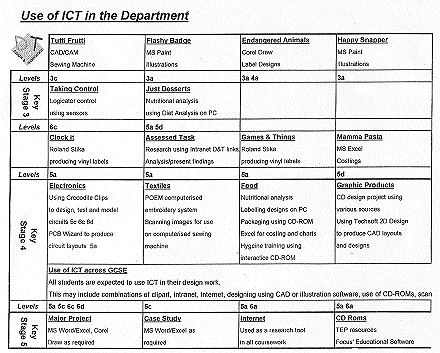 Teachers observed during the case study: Amanda Daivighi and Amanda Jagielka
GCSE focus area for this study: GCSE Electronic Products OCR is the chosen examinations board and is the department's wish to stay with them as they have been previously involved in producing exemplar material, regarding graphics, for the board.
Number of D&T rooms: Five.
No of students in group & boy/girl split: At GCSE group sizes are between 22 and 24 students. Boy/girl splits are as follows.
| | | |
| --- | --- | --- |
| | Girls | Boys |
| Textiles | 100% | 0% |
| Food | 50% | 50% |
| Electronics | 10% | 90% |
| Resistant Materials | 50% | 50% |
| Graphics | 50% | 50% |
Band/stream/mixed ability: Pupils are taught in mixed ability groups. In 2001 the department started streaming at year 8 and year 9 with two 'gifted and talented' groups in each year group. Students were selected by means of technology test scores, pupil data and competence in designing and making shown in year 7.
ICT resources: IT suite comprising of 14 PCs . A3 colour printer, 3 Roland vinyl sticker machines, Poem embroider, Computerised sewing machine, Suregraves Wizard Milling machine, Roland Cam 1 engraver.
Other Equipment: Thermoplastics centre; Blow moulde; Vacuum former; Casting; forge & hot metal area; Regular workshop equipment ( band saws, pillar drills, disc sander, belt sander wood lathe, metal lathe)
Teacher INSET undertaken leading up to the case study: All staff attend exam board training for their subject, this is regularly updated. Staff report back and share INSET experiences with the rest of the team.
Amenda Jagielka is Pro desk top trained. Health and safety training is regularly updated. Amanda Davighi holds regular INSET for 'Borough' teachers. All teachers regularly attend relevant subject INSET days. Whole school INSET days on wider issues such as numeracy & literacy. Borough INSET day are attended by all staff and other teachers from the Borough with training delived from Suregraves & TEP.
Classroom/workshop layout and management: 2 major resistant materials workshops, 1 electronics room with 4 PCs, Smaller resistant material room with CAD machine, Computer room, Textile room. Food room, Large graphics room on top floor. Rooms are timetabled with groups sharing time in the IT room
Teacher support: Teachers follow an individual development plan, which is reviewed twice yearly. Departmental meetings, both formal and weekly, allow teachers to air their views and suggest improvements for day to day teaching. Teachers within the department support each other and share a communal staff room with desk space for each member.
Differentiation – learning support and EFL support: All schemes of work contain provision for differentiation. The learning support department provides teachers with information on each student. Learning support assistants liase with department teachers to assist students with learning difficulties. LSAs support students with practical tasks in the workshops.
The future: The department is continually forward thinking with improvements made yearly. Future moves towards CAM and eventually a laser cutter are the way forward. Modernisation of the food rooms and IT suite also are planned. The department is keen to forge links with industry across the subject areas.
Other things happening in the department: The department regularly takes part in cross-curricular activities with the Maths and Science departments within the school. These have included a go-kart building day where year 7 students made go-karts from life size Mechano and raced them around a track. To win parts to build their karts teams answered questions about maths, science and technology.
Year 8 students take part in a bridge building exercise that explores the principles of different bridge structures and the use of tetrahedrons.
Year 9 pupils designed a menu for the Queens jubilee, with a nutritional analysis completed in science and costing in maths. Winners made their menu in a master chef style day judged by senior management.
Year 13 enjoy an annual visit to the Alessi factory in Italy. On previous visits students have been able to view all areas of production within the Alessi Factory.

© Amethyst Consultancy Ltd. 2004-2018
For all products and systems designed by us on behalf of our clients the company's terms and conditions apply.