PLC Training.
Here at Ideas in2 Action we are able to provide training in the use of Programmable Logic Controllers as stand-alone training courses or in using PLC as a design tool for driving systems as in the examples at the bottom of the page.
Should you require it we are able to design and construct specialist bespoke systems for our clients that have PLCs embedded into the system.
In our teaching suite we have 10 workstations similar to the one shown in the photograph below.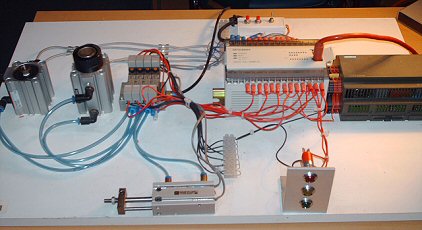 Each of the workstations is set up with a number of single and double acting pneumatic actuators and a traffic light simulator. Over a typical two-day course delegates would begin with designing a lighting simulation and end up with a complex system design using all the functionality of the workstation.
Below are examples of small projects designed using PLC controllers.
Each of the workstations is controlled by a dedicated PC. The heart of each workstation is a Mitsubishi FX0 or FX10 PLC and software that we use is the popular industry standard Mitsubishi Melsec software as shown in the following photographs.
This software uses ladder-logic as its user interface. A sample software page is also shown below.
A few examples of PLCs in use in a system design environment are shown below.
A PLC test rig designed to test the wear
characteristics of a clinical appliance
A PLC controlled clinical test
for a hip replacement joint.
Hopefully we will be able to provide you with a cost-effective solution so that PLC's can be used as a design tool for your applications. If you would like further details or discuss your specific needs please contact us.

© Amethyst Consultancy. 2004-2020
For all products and systems designed by us on behalf of our clients the company's terms and conditions apply.