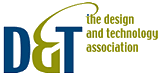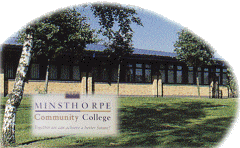 Minsthorpe Community College
School:
Minsthorpe Community College
Address:

Minsthorpe Lane
South Elmsall
Pontefract
West Yorkshire
WF9 2UJ

Tel:
01977 723810
Fax:
01977 723814
Email:
rbrown@minsthorpe.wakefield.sch.uk
Snapshot of the School: Minsthorpe school was officially opened in 1969 as an Upper Secondary school. It served an area where the main employment was geared toward the mining industry. The late 1980's and early 1990's were a difficult time for the area with mines and businesses closes, the students at the school (and their parents) had little expectations about quality of education. Until 1996 Minsthorpe gained its students through the first and middle school systems receiving their intake at 13+.
10 years ago as a failing school with only 12% of students leaving with five or more GCSE's a new principal was appointed. At that time it was difficult to recruit students to the school.
An excellent OFSTED report in 1995 reflected better behaviour, attendance and examination results. Following this report a new building programme was initiated in 1996– initially to get ready for 850 new students to enable the school to become a true 11-18 comprehensive school. This was followed by further facilities to enhance the role as a provider of community education and training. The school now has over 1750 students, expectations of the students are now high and student places are highly sought after. The school also offers the facility for outside agencies to hire space in a purpose built training and conference centre which has a 20 station PC network with Internet and video conferencing access.
As part of the new building programme a specialist Science and Technology block was built. 8 ½ teachers deliver the Design and Technology curriculum. The facility comprises of 3 rooms for delivering Resistant Materials, Electronics and Graphics and 3 further rooms for Food & Textiles. There is an open resource area with a small network of PC's that also houses the CAD/CAM equipment. This resource area is only available to D&T students. To supplement the ICT provision there are 5 large networked ICT suites which have cross-curricular use and although are timetabled may be booked for "short-term use" by any member of staff who wishes to use the facility.
Over 300 people are involved in learning activities on the site on Saturday mornings and community use of the facilities continues throughout the weekend delivering avtivities which in an average week span a 72 hour period.
Range of D&T GCSE's offered: The full range of National Curriculum D&T subjects.
Number of teachers teaching D&T: Four.
How is ICT for D&T Resourced? ICT resource has been by enthusiasm of the HoD. He has worked very hard with the Headteacher and local Industry to support ICT and involve other people in contributing to the cost.
Brief history of ICT development: The department began with PC's that were cast-off from other areas in the school. When Senior Management realised what was going on and how successful this had been. Specialist ICT provision was slowly provided for D&T.
Date of Case Study: July 2001
The Case Study:
Teacher observed during the case study: Miss Katherine Shepherd
GCSE focus area for this study: Key stage 3 – Year 9
No of students in group & boy/girl split: 27; 14 girls and 13 boys.
Band/stream/mixed ability: Mixed ability.
ICT resources: There is a small dedicated ICT area within the department. Larger rooms for full class participation are bookable. Availability of these rooms is difficult.
Other Equipment: The department is well equipped and is equipped with what one would expect in a successful department.
Teacher INSET undertaken leading up to the case study: INSET has been provided by bought in consultants and in-house sessions provided by HoD.
Classroom/workshop layout and management: Although the school is modern, light, airy and well decorated the D&T facilities are spread in different parts of the building. Staff work areas are well provided for.
Teacher support: One part-time technician who is the general technician for all the D&T romms as well as D&T ICT. The HoD tends to be ICT technician.
Differentiation – learning support and EFL support: The material I viewed was well catered for with regards to differentiation. In class support was provided for students with special learning difficulties.
The future: To future develop ECT and in particular PICs developed into affordable products that the students can take home.

© Amethyst Consultancy Ltd. 2004-2018
For all products and systems designed by us on behalf of our clients the company's terms and conditions apply.