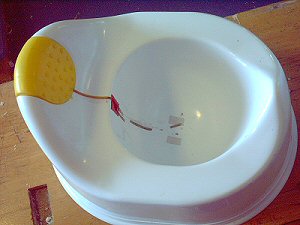 Talking Potty
© Patent Iris Whyte Ltd
In the fourth iteration of 'Talking Potty' the designer has specified that the potty has to be able to be totally immersed in water to enable the potty to be washed. Discussion with the designer has changed the PDS to encapsulate the control electronics and speech unit into a removable podule.
This has been achieved using RJ45 technology as shown in the figures below.
The RJ45 socket is built into the main podule and the RJ45 lead is removed from the podule by the press of a simple clip, leaving the other end of the lead permanently attached to the liquid sensor, thermistor and signal LED's. The contacts between RJ45 lead and socket are miniature gold contacts and as such will not be damaged in normal washing conditions.

© Amethyst Consultancy. 2004-2020
For all products and systems designed by us on behalf of our clients the company's terms and conditions apply.