Pneumatic Training within The Systems and Control Strand of D&T.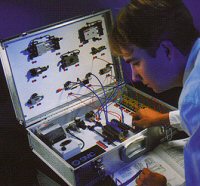 Here at Ideas in2 Action we see pneumatics as an important aspect of the Systems and Control Strand of the Design and Technology National Curriculum. At the same time as recognising the importance of teaching this aspect of technology we realise that for many schools the cost becomes prohibitive. Hopefully we will be able to provide you with a cost-effective solution so that pneumatics and electropneumatics can be delivered to your students.
In partnership with SMC pneumatics we are able to provide tailor made courses for your staff and your students.
We could provide you with weekly courses covering aspects of National Curriculum Key Stages Three and Four programmes of study here at our training offices in Metheringham Lincolnshire (our training suite will accommodate up to 10 students at any one session), or could develop a course specific to the needs of your teachers so that your own staff could deliver the material at your school.
We use state of the art industrial components as shown in the photograph below. We teach course delegates how to simulate circuit design using parametric software. We deliver modules that cover aspects such as Basic Pneumatics, Electropneumatics and PLC based pneumatics using Mitsubishi PLC's.
If you would like further details or discuss your specific needs please contact us.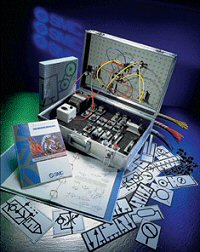 SMC Pneumatics – a Japanese company and probably the world's leading pneumatic component manufacturer.
The company's UK Headquarters are in Milton Keynes Buckinghamshire.

© Amethyst Consultancy. 2004-2020
For all products and systems designed by us on behalf of our clients the company's terms and conditions apply.