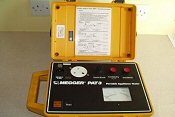 The Health and Safety at Work Act (1984) and many other E.C Directives relating to workplace safety, put all the onus on the employer to ensure that he creates and maintains a safe working environment. This includes ensuring any tools or equipment supplied are safe and in good working order.
Section 4 (2) of the Electricity at Work Regulation (1989) focuses on this "Duty of Care" in relation to any machinery connected to the electricity supply via a removable plug.
To assist companies to comply with this legislation, the electrical industry has developed a range to tests to an industry standard specification. This ensures that all portable appliances are checked by a trained engineer to ensure they comply with the pre-defined standard, and are safe for the purpose they are designed for.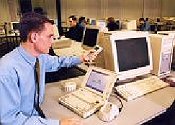 In your workplace Ideas In2 Action comprehensively tests each appliance by a fully trained technicians. The technician will certify that the appliance conforms to the current required specification. A detailed report is then produced confirming the status of each appliance.
Ideas In2 Action can carry out PAT Testing on any Portable Appliance including: Computers, Printers, Shredders, Photocopiers and all other office or school electrical appliances.
Our technicians are fully trained in the IEE Wiring Regulations and our system ensures that you are provided with all the documentation and certification that you require, to demonstrate to any legislative body that you have fulfilled your obligations as an employer.
As you would expect from Ideas In2 Action, all work is carried out with the emphasis on quality, care, professionalism and customer service.
---
Prices:

£10 attendance fee per site

plus £1.25 per item tested.

Businesses within the radius marked on the map will incur no additional charges, businesses located outside this radius will be incur a travel charge of 24p per mile
Please use the enquiry form below to request quotation for PAT testing. Enquiries are received by us by email and we try to respond as quickly as possible, certainly within 2 working days. If however your enquiry is urgent contact us by phone on 01526 378111.

© Amethyst Consultancy Ltd. 2004-2015
For all products and systems designed by us on behalf of our clients the company's terms and conditions apply.