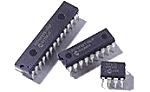 PICAXE CPD
PICAXE® is a unique system devised by Revolution Education that allows PICS to be programmed either by writing to them using BASIC programming language or through a flow chart graphical interface.
The PICs are supplied with a "bootstrap file" to which the PIC programmer has no access. The bootstrap file changes the user interface of the PIC to one that understands syntax from the BASIC language. Commands such as high, low, wait and goto are used to program the chip and then internal ROM in the chip converts these commands to the assembly language that is commonly associated with PIC programming.
Our PICAXE CPD is geared to the needs of the individual. Teaching sessions can be stand-alone units of 2-3 hour duration, or can be part of our ECT initiative training. CPD can be provided for individual teachers or for a consortium of teachers from LEAs.
Some schools have found us cost effective to use for delivering parts of their Key Stage 4 curriculum to groups of students. For example where it has been found that only a small number of students have opted to follow GCSE Electronic Products, and the school felt they could not justify timetabling a member of staff to teach the small group, we have supplied the teaching for these groups either at our Metheringham premises or by visiting the school to teach the GCSE curriculum material. Our premises has workstations for up to 10 people working at each session.
The photographs below are a small selection of products developed using PICAXE chips, but to find out more or to discuss your ideas with us please contact us or telephone 01526 378111.

© Amethyst Consultancy. 2004-2020
For all products and systems designed by us on behalf of our clients the company's terms and conditions apply.