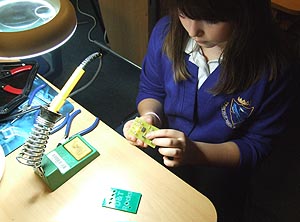 In the ever-changing environment of Primary Design and Technology Education it important that we keep up-to-date with changes in this area of the curriculum. As a constantly evolving subject , our subject needs continuing support if it is to develop and provide students with the skills required for life in the modern design and technological world.
D&T experiences regular changes in terms of curriculum delivery. These changes bring their own pressures and opportunities for teachers to update and develop their own subject knowledge and skills.
Design & Technology In2 Action is able to provide Schools with support on any issue relating to the D&T area of the curriculum. Suggested areas of support that schools may wish to consider may be; Curriculum planning, Preparing for inspection, Supporting parents (and TLAs) in the classroom, Reviewing Health and Safety issues, Department design and layout, Subject Leader support, Support NQT's and trainee teachers, Lesson observations, Preparing for The Design Mark, Short listing for interviews, Self-evaluation frameworks, Providing direct support for students, CPD and other areas of staff development.
Support programmes are designed to suit the needs of individual schools and their teachers. They may take place as one-to-one interactive sessions between a teacher and our consultant, form part of group consultancy to a whole school team, or alternatively a group of schools may wish to collaborate on a particular aspect of CPD. Alternatively, individual teachers may wish to have on-going CPD over a period of time that leads to Nationally recognised awards promoted by The D&T Association or as modules that lead to a Masters award in association with Bangor University or Sheffield Hallam University. Delivery could be at either the participating schools, or at a venue that is negotiated between the consultant and individual schools.

© Amethyst Consultancy. 2004-2020
For all products and systems designed by us on behalf of our clients the company's terms and conditions apply.