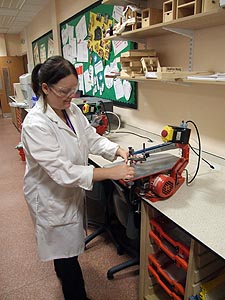 With 2 fully registered Design and Technology Health and Safety Consultants, D&T In2 Action Consultancy is the perfect choice to complete all your personal and subject based health and safety requirements.
We follow the National scheme set out by The D&TA where we are able to offer core the training and a full range of other specialist units.

S1HS - Wood Sawing Machines
S2HS - Centre Lathe for Metal Cutting
S3HS - Casting Non-Ferrous Metals
S4HS - Metal Arc Welding
S5HS - Oxy-Acetylene Welding & Cutting
S6HS - Milling Machines & Machining Centres
S7HS - Wood Turning Lathes
S8HS - Planer / Thicknesser Machines
S9HS - Portable Power Tools
S10HS - Grinding & Sharpening
S11HS - Site Staff
We understand that each person requiring training has a different experience and skill-set therefore we offer a personalised service enabling each client to have a course tailored to their requirements. Whether we work with a full department or a group of individuals all levels and needs can be catered for.
Food and Textiles specialisms can be catered for, contact us to discuss your requirements.

© Amethyst Consultancy. 2004-2020
For all products and systems designed by us on behalf of our clients the company's terms and conditions apply.