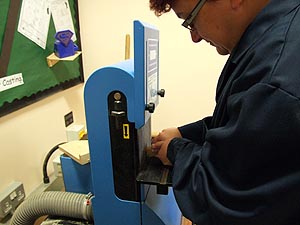 The Health and Safety at Work Act 1974 requires that employers ensure equipment used by staff and students is safe and that risks to health and safety are minimised. The Provision and Use of Work Equipment Regulations 1998 (PUWER) require that employers ensure that work equipment is maintained in an efficient state, in efficient working order and in good repair.
It is recommended that all schools should keep a record of maintenance for all machinery and equipment. Maintenance work should only be done by those who are competent to do the work. At D&T In2 Action we are able to provide you with that service. All of our service engineers are very experienced in the field and, as you would expect from our company, all work is carried out with the emphasis on quality, care, professionalism and customer service. In addition to the annual maintenance schedule, D&T teachers are recommended to develop a recorded maintenance programme made up of daily, weekly, termly and annual checks on all machinery and equipment.
In secondary schools, school technicians normally undertake the daily, weekly, termly checks, leaving the annual checks to external maintenance contractors such as D&T In2 Action. Our annual checks go beyond just breakdown maintenance that is carried out normally only after faults or failure have occurred, but also include planned preventative maintenance (e.g. replacing parts or making necessary adjustments so that risks do not occur as a result of the deterioration or failure of the equipment) and condition-based maintenance (e.g. involving monitoring the condition of safety critical parts and carrying out maintenance necessary to avoid hazards which could otherwise occur).


© Amethyst Consultancy. 2004-2020
For all products and systems designed by us on behalf of our clients the company's terms and conditions apply.